Description
Highlight
Dimension : 9 1/2" wide x 10.5" tall x 1" thick
Material : US Designer Cotton lined with cotton batting
Care instructions: Machine wash cold; do not bleach.
Handmade
A cloth book for baby and prescooler inside a Busytown 'on the move'.It is an education character that teach toddler about vehicles at Busytown. Busytown On the Move soft book has12 bright illustration pages include front and back page. The dimension is 9.5 inch x 9.5 inch.
The pages is lined with batting to make it soft and sturdy to hold. The binding is double stitched and has a handle for toddler to carry.
Buku kain untuk bayi dan kanak-kanak di dalam Busytown On The Move .Ia adalah watak pendidikan yang mengajar anak-anak tentang kenderaan di Busytown. Busytown On The Move adalah buku yang lembut mempunyai 12 halaman ilustrasi yang terang termasuk halaman depan dan belakang. Dimensi adalah 9.5 inci x 9.5 inci. Halaman buku dilapisi dengan lapisan batting untuk menjadikannya lembut dan kukuh untuk dipegang. Bahagian tepi buku dijahit dua garisan dan mempunyai handle untuk dipegang oleh kanak-kanak.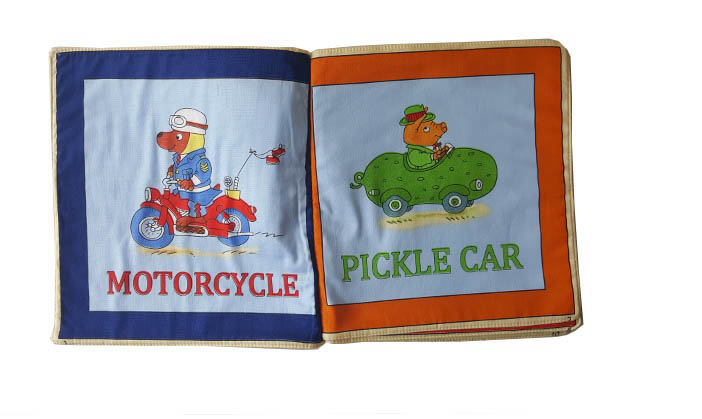 Reviews (0)
view all
back